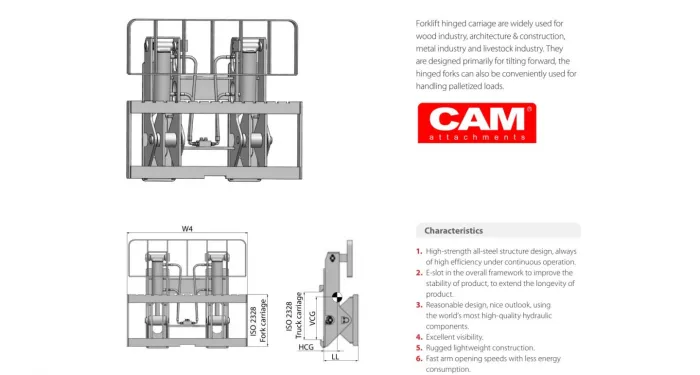 A hinged carriage helps you to tip bulk cargo containers in a safe way. You can fit this attachment with a bucket to shovel all bulk goods such as sand, coal, grain, fertiliser, sods, blocks ...

Forklift hinged carriage are widely used for wood industry, architecture & construction,
metal industry and livestock industry. They are designed primarily for tilting forward, the
hinged forks can also be conveniently used for handling palletized loads.

Characteristics
1. High-strength all-steel structure design, always
of high efficiency under continuous operation.
2. E-slot in the overall framework to improve the
stability of product, to extend the longevity of
product.
3. Reasonable design, nice outlook, using
the world's most high-quality hydraulic
components.
4. Excellent visibility.
5. Rugged lightweight construction.
6. Fast arm opening speeds with less energy
consumption.
7. High net capacity.

PADAMAS is ALWAYS a GOOD IDEA!